Biography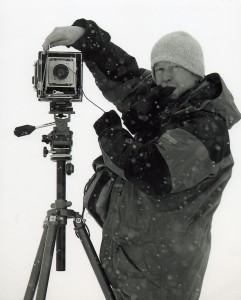 "Wayne Gudmundson's landscapes of North Dakota document a place most people dismiss as uninteresting, but his pictures prove us wrong as they record there a grandeur that we thought had been entirely lost with the passing of frontier America.

The obstacles that confronted Gudmundson, particularly in winter must have been severe. Geography like the one in which he worked is recorded convincingly only by the most ardent commitment and patience. The pictures have to appear unforced if viewers are to find them different from the clichés they have learned to reject, and Gudmundson's views have this difficult appearance of ease. They are the best current, composite picture of their subject of which I know."

-Robert Adams
Wayne Gudmundson's work is in the permanent collection of many major museums including the Museum of Modern Art in New York, the San Francisco Museum of Modern Art, the Center for Creative Photography in Tucson, the Reykjavik Museum of Photography, the Canadian Center for Architecture in Montreal, and the Plains Art Museum in Fargo.
His photographs have appeared in nine books, several public television documentaries, and numerous exhibits over the past forty years.
He teaches photography at Minnesota State University Moorhead.
Gudmundson does not fish, yet claims Sunfish to be the best that Minnesota has to offer.